Via so-called data streamers, you can trigger applications in the online portal when various events occur.
Data streamers can push data to an interface as soon as an event occurs. Such an event could be, for example, that a SIM card is activated or deactivated. The following connections are currently supported:
Amazon Kinesis Data Streams
Microsoft Azure Event Hubs
Google Cloud Pub/Sub
Amazon S3
Webhook
Keen.io
Datadog.
By using webhooks, you can connect your own APIs or automation services such as Zapier.com or Integromat.

You can create a data stream in the portal at portal.whereversim.de in the "Integrations" tab. To do this, click on the tile "Add new data stream" and then select which connection you want to add. You can also switch existing data streams on and off there.

In the newly created data stream, fill in the data requested in the form. For a webhook, this could look like this: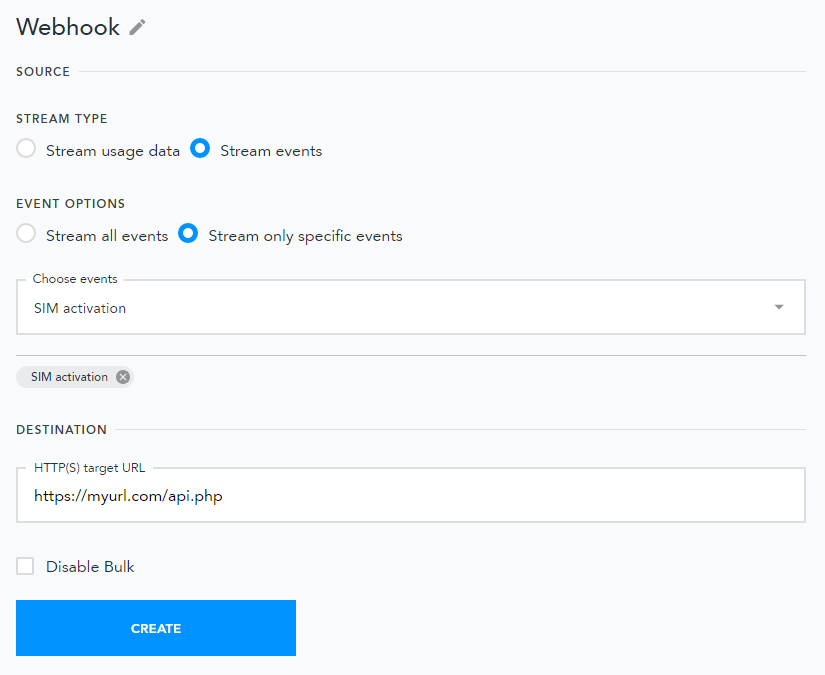 Under Source you can specify whether usage data (data used and SMS), events (e.g. SIM activated) or both are to be transmitted. In the event options, you can further limit the events to be transmitted. In the destination, define your API link or, for example, the webhook link that Zapier has generated for you in the corresponding Zap. Finally, click on "Create" to confirm. The data stream is now created and immediately active.
Through integration with an automation service such as Zapier or Integromat, you can now receive data at the "SIM activated" event and generate a mail via email integration that also contains data such as the ICCID or the phone number (MSISDN) of the SIM card.
We have put together a step-by-step guide via Zapier for you in this PDF-document.